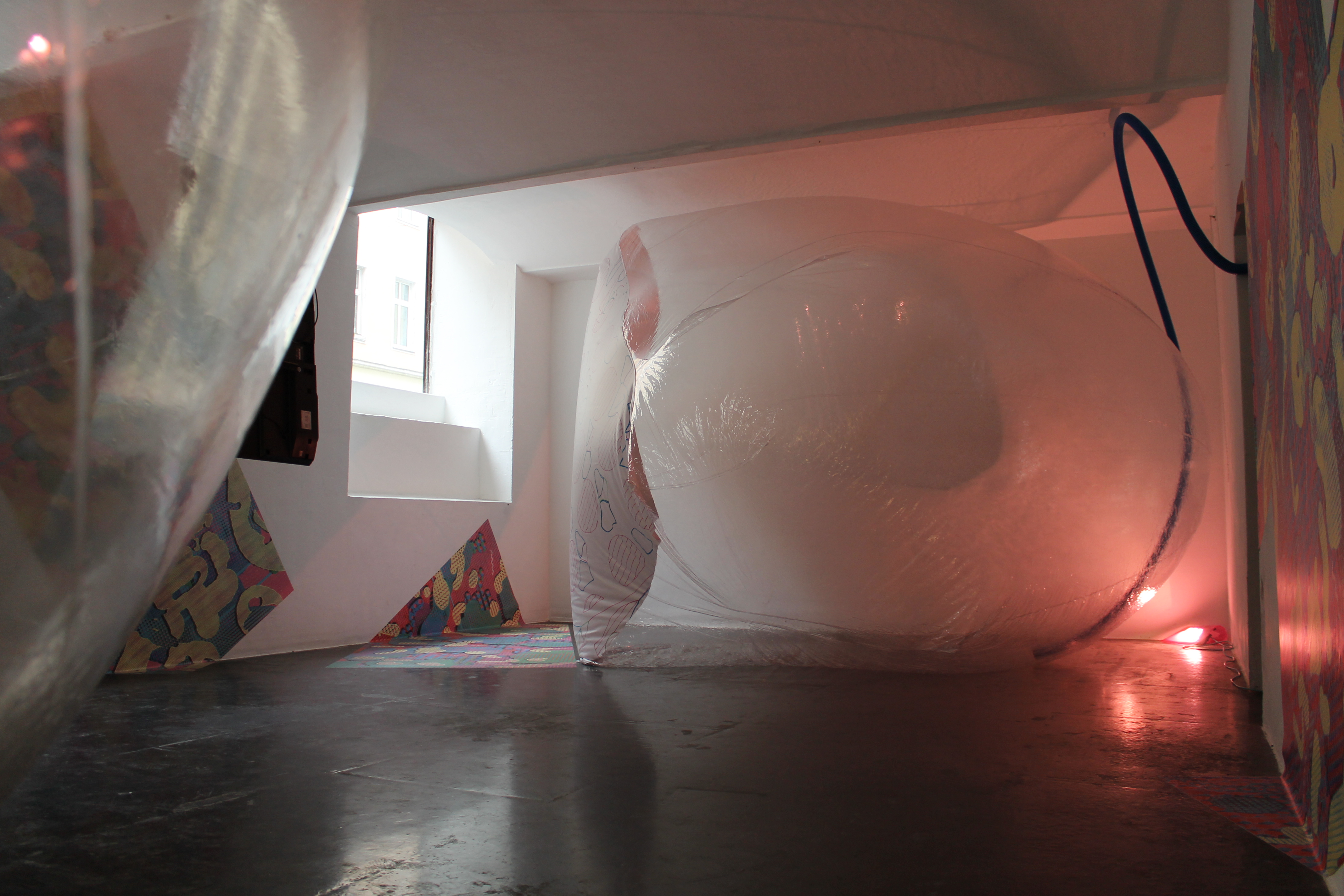 iheartblob is an award winning architectural design studio and research collective formed by Aleksandra Belitskaja, Ben James and Shaun McCallum, currently based in the UK. The studio has a strong focus on the Architectural Object, yet, draws on core tenets from an array of philosophical and theoretical principles whilst exploring new models of architectural thinking and constructing. The work is meant to both enchant and reflect on the crisis of thought which runs through architecture today by investigating new and established ideas as though they were materials, engaging seriously with hard hitting agendas, whilst remaining at a distance from full immersion.
Each project revels in expanding new visual languages of architecture where projects are rarely seen in traditional plan and section but are rather expressed through mixed reality objects, real-time renderings as well as custom designed architectural software in an attempt to reflect their Lagrangian derivations. Through the exploration of these mediums, the work always enables new discussion surrounding our current cultural, practical and theoretical framework in which architecture resides. The studio has developed numerous provocative proposals for international competitions as well as having worked exhibited across the globe including Storefront for Art and Architecture, New York and A+D Museum in Los Angeles.
2020 "digital futures -REWORK/Workspaces Workshop" (digital review), panel members
2020 "iheartblob book Virtual Opening" (Digital Book Launch), online
2020 "The Future of _Space" (Online Exhibition), A+D Museum, online
2020 "Mies TV – Architecture Interview TV-series" (Film Screening), online
2020 "Public artists discuss art in isolation" (interview), interview, Canada
2019 "thicc seams" (Solo Exhibition), MAGAZIN, Vienna, Austria
2019 "splitting seams" (Discussion with Valerie Messini, Gonzalo Vaillo, Eckardt Lindner), MAGAZIN, Vienna, Austria
2019 "Frankentypes" (Group Exhibition), The Lighthouse, Glasgow, Scotland
2019 "Frankentypes – short intreview" (Interview), The Lighthouse, Glasgow, Scotland
2019 Liabilities (Online Publication), WASH Magazine, US
2018 "Impermanent Collection" (Museum Collection), A+D Museum, Los-Angeles, US
2018 "Wireframes: The Visualisation of Architecture" (Group Exhibition), A+D Museum, Los Angeles, US
2018 "New Ruralism 新乡村主义" (Lecture), Architectural Association Visiting School, Shenzhen, CN
2018 "In Search of Matryoshka Extravaganza" (Publication), KoozArch, London, UK
2018 "Frankentypes" (Group Exhibition), Architecture Fringe Festival, Scotland, UK
2018 "3-Ways" (Group Exhibition), A+D Museum, Los Angeles, US
2017 "Souvenirs: New New York Icons" (Group Exhibition), Storefront For Art and Architecture, New York, US
2017 "iheartblob" (Solo Exhibition), KugelMugel, Vienna, AT
2017 "Freedom of Expression", Cape Cod Museum of Art, Massachusetts, US
2017 "Amphibious Habitats" (Group Exhibition), La Termica, Malaga, ES
2017 UCL Bartlett LOBBY (Competition), 3rd Place, London, UK
2017 "Object Objections" Ed Magazine (Print Publication), Archinect, Los Angeles, US-digital
Aleksandra Belitskaja / Sasha
Aleksandra Belitskaja is an Estonian architectural designer and game developer whose work centers on novel interactive design models and the interplay of new emergent aesthetics. Her projects focus on utilizing computer graphics and game engine technology to explore new forms of connectivity between audience, architect and community. Her experimental work and proposals have been published internationally. Aleksandra has taught workshops on building dynamic spatial conditions through custom built game design environments and experimental 3D modelling softwares. She received her Bachelor of Architecture from the University of Dundee, graduating with distinction, before continuing her masters studies at Die Angewandte in Studio Greg Lynn. Throughout her professional architecture career, Aleksandra has worked for award winning internationally-known innovative offices in Stuttgart, Vienna and Los Angeles.
Benjamin James is an American-British economist and architectural designer. His works fuses these disciplines by focusing on the use of new disruptive technology in design; specifically the link between machine vision, machine learning and digital fabrication. Benjamin graduated with honors from the UNC Kenan-Flagler Business School and the Architectural Institute in Prague, before continuing his master studies at Die Angewandte in Studio Greg Lynn. He has worked professionally on architecture projects in New York, Copenhagen, London and Hong Kong as well as consulted for Fortune 500 companies. As an academic, he served as a visiting researcher at the CIEE Global Institute in Berlin where his work explored computational fluid dynamics and digital fabrication as applied to the architectural discipline. He has been an invited guest at the AA visiting school, Shenzhen and lectured in Hong Kong on the impact of new emergent technologies like AR and AI will affect Smart cities and New Ruralism.
Shaun McCallum is a Scottish architectural designer and digital artist whose work investigates the impact of new technologies upon socio-political cultures through ephemeral architectural objects and installations. He received his Bachelor of Architecture, with Distinction, from the University of Dundee before studying at the (Sci-Arc) Southern Institute of Architecture in Los Angeles and Die Angewandte in Studio Greg Lynn. His projects which explore the accessibility and integration of digital technologies within existing physical structures have received a variety of awards and have been published internationally. As a researcher, Shaun has served as a travel fellow in China investigating the interplay of mystical historical ruins juxtaposed with new consumer lead architectural objects and under occupied mega cities. With his interests in hybridised realities Shaun has taught workshops on augmented reality and virtual reality through experimental workflows.